Passage of Bill could Spell the End of Captive Marine Mammal Exhibits at Marineland in Niagara Falls
A Brief Foreword by Niagara At Large reporter and publisher Doug Draper, followed by a Call-Out to Support the Bill from Canada's Green Party
Posted February 21st. 2019 on Niagara At Large
Going back to my earliest years as an environment reporter at The St. Catharines Standard in the 1980s, there have been individuals and groups in Niagara and across the North American continent pressing senior levels of government to ban the captivity of whales and dolphins and other marine mammals at amusement parks and acquariums like Marineland in Niagara Falls.
Groups like Niagara Action for Animals (NAFA) and Zoocheck Canada, a handful of activist teachers in Niagara who decided to stop taking groups of grade school students to Marineland, and former Marineland trainers like Phil Demers, who is still facing a$1.5 million lawsuit for speaking out seven years ago about conditions for the mammals in the park, are among a long paraid of groups and individuals who have been fighting for an end of captivity for these remarkable animals.
And now, with a federal bill, S-203 – better known as the End the Captivity of Whales and Dolphins Act -coming closer to a final vote in Canada's Parliament, the dream of ending the practice of keeping whales and other marine mammals in tanks for public exhibition may finally come true.
For the very few places left in the country that exhibit these animals, including Marineland and the Vancouver Acquarium, the bill is wrong-headed, even from a scientific or compassion-for-the-animals point of view, and would be a blow to business for them and the communities where they operate.
John Holer, the late founder of Marineland, had this to say at a Senate hearing n the legislation two years ago –
"You have to understand how tourism works," Holer told members of Canada's Senate Committee on Fisheries and Oceans. "You may ask yourself, "Why have we seen such an increase in tourism at Niagara Falls?" In my opinion, everything is timed. When visitors come to Marineland they spend the whole day. Some of them spend two days. They come back the next day. In order for them to spend a day, they have to find accommodation, a hotel room and everything else that comes with it, the restaurant, the shopping, other entertainment, and this is how tourism is built."
Andrew Burns, a lawyer representing Marineland at the Senate committee hearing added –
All of our laws, regulations, policies and procedures are based on a fundamental concern for and focus on animal welfare. Can we all do better? Yes, we can, and we are committed to doing so," he insisted. "The important point is that our understanding of animal welfare evolves as we all learn more. This bill simply does not assist with that process and worse, impedes conservation and research efforts, distracts from the real issues facing our wildlife by demanding the creation of personal rights for animals."
Can we all do better?
After all of our playing Mother Nature or the master of all species and life forms on this planet, then we look around at the number of species in danger of disappearing and the mess we've made of the earth's air, water and land, I believe a stronger case could be made that we humans have already done quite enough.
I have been off the coast of Cape Cod with oceanographers and have watched whales and dolphins gliding through the waters of their natural habitat, and that is where these amazing animals belong. Not in giant tubs at Marineland.
So now Elizabeth May, Leader of Canada's Green Party, is circulating the following call-out to you to support the passage of long and hard fought legislation in Canada to, once and for, all ban the practice of keeping whales and dolphins in captivity.
Here is her party's call-out below. Please lend your name to it and make this ban on holding these great mammals from the Earth's oceans in captivity, as amusement park attractions.
To read a transcript of the May, 2017 appearance before the Canadian Senate's Committee on Fisheries and Oceans, of Marineland founder John Holer and others, click on – https://sencanada.ca/en/Content/Sen/Committee/421/POFO/16ev-53331-e .
A Call-Out for Support from Canada's Green Party
Hi Friend,
Canada's Green Party Leader Elizabeth May has sponsored an important bill in the House of Commons to keep whales and dolphins out of captivity.
It has been a lot of hard work, for many years, across party lines, to get the legislation to this stage. Now Elizabeth needs your help to ensure the Conservatives and Liberals don't delay the End the Captivity of Whales and Dolphins Act (S-203) on its way to becoming law.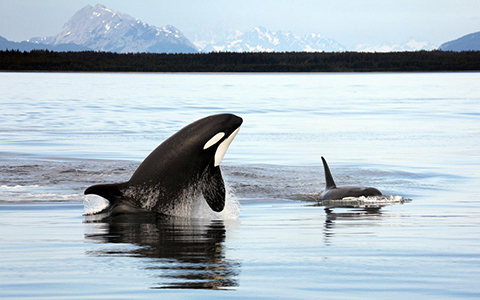 Whales, dolphins and other highly intelligent marine mammals suffer in captivity. Isolation, small aquariums, and chemically-treated water inflict serious physical and psychological harm on these highly social creatures.
"Captivity is torture for cetaceans. It's time we put an end to it."   –

Elizabeth May   

 
This bill, sponsored by our Green Party Leader, will end this cruelty by making it illegal to keep a whale or dolphin in captivity. Help us make sure it's passed before the federal election by sending a letter to the Fisheries Minister!
The good news is that we're nearly there! Elizabeth's bill passed second reading and heads to committee soon.
The bad news is that the other parties could still stall the Free Willy Bill in committee with unnecessary amendments. If that happens, it could die on the order paper if it does not receive a third reading by the end of this session.  This means aquariums will continue to keep orcas, like Marineland's Kiska, in their tiny pools.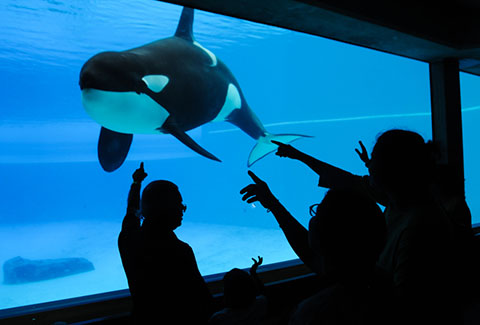 It's time to end this inhumane practice.
Send your letter. Click on the following –  Tell Fisheries Minister Jonathan Wilkinson that you want this bill passed without delay.
In action and solidarity,
Jo-Ann Roberts
Deputy Leader, Candidate for Halifax
Green Party of Canada
P.S. Thank you for protecting our oceans' creatures! When you spread our message, you protect whales, dolphins and other highly intelligent marine mammals from captivity. Please add your name and send this email to your friends!
To read a transcript of the May, 2017 appearance before the Canadian Senate's Committee on Fisheries and Oceans, of Marineland founder John Holer and others, click on – https://sencanada.ca/en/Content/Sen/Committee/421/POFO/16ev-53331-e .
NIAGARA AT LARGE encourages you to join the conversation by sharing your views on this post in the space following the Bernie Sanders quote below.
A reminder that we only post comments by individuals who also share their first and last names.
For more news and commentary from Niagara At Large – an independent, alternative voice for our greater bi-national Niagara region – become a regular visitor and subscriber to NAL at www.niagaraatlarge.com .
"A politician thinks of the next election. A leader thinks of the next generation." – Bernie Sanders